BOOKS FOR RESEARCHERS AND HEALTH CARE PROFESSIONALS
These books are highly technical and likely to be more of interest to the researcher or health care professional looking to deepen their knowledge with a large collection of focused research brought together in a convenient, single volume. This list will be regularly updated.

1. Cancer and the Search for Selective Biochemical Inhibitors, Second Edition.
By E.J. Hoffman.
ISBN: 9781420045932
Publication Date: June 25, 2007
Publisher: CRC Press; 2 edition
Binding: Hardback
Number of Pages: 480

Hoffman covers this topic from A-Z by starting with a chapter on the origins of cancer and then one on biochemical insights into cancer. He then presents a thorough treatment of anticancer plants and herbs and an in-depth analysis of the underlying biochemical principles for alternative cancer therapies. A whole chapter is devoted to Enzymatic Biochemical Treatment Protocols. The author then examines anticancer plant substances such as garlic, and other alternatives such as Vitamin C, essiac tea, shark cartilage, and cat's claw. A survey of anticancer plants from around the world is also presented with special emphasis on South Africa, China, Russia, Mexico, Australia, Egypt and Israel, United States and Great Britain.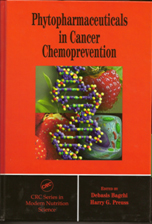 2. Phytopharmaceuticals in Cancer Chemoprevention
Edited by: Debasis Bagchi and Harry G. Preuss
Hardcover: 688 pages
Publication Date: July 26, 2004
Publisher: CRC Press; 1 edition
Language: English
ISBN-10: 0849315603
ISBN-13: 978-0849315602 Product Dimensions: 10.3 x 7 x 1.6 inches
This is another excellent review of using natural products against cancer, however the focus here is on chemoprevention (stopping cancer before it starts) rather than killing cancer cells once they have presented. The opening chapter covers the epidemiology of cancer, followed by 16 chapters on the pathophysiology of cancer. The bulk of the book (almost 400 pages) is then dedicated to a detailed treatment of 20 individual supplements or botanicals and their role in cancer prevention, including: tea, curcumin, resveratrol, palm tocotrienols, pycnogenol, maitake mushroom, lycopene, astaxanthin, coenzyme Q10, probiotics, berries, polyphenols, flavonoids, and vitamins C and E.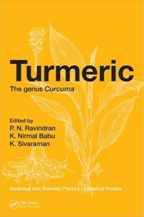 3.
Turmeric: The Genus Curcuma
Edited by: P.N. Ravindran, K. Nirmal Babu and K. Sivaraman
Hardcover: 504 pages
Publication Date: March 1, 2007
Publisher: CRC Press; 1 edition
ISBN-10: 0849370345
ISBN-13: 978-0849370342
Product Dimensions: 10.1 x 7.3 x 1.3 inches

With 19 currently active clinical trials against cancer registered with the NIH, and over 1358 research articles cited on PubMed, curcumin is second only to green tea as the most researched botanical in the fight against cancer. This is the first ever comprehensive monographic volume on turmeric (curcumin). Going far beyond just medicinal uses, it covers turmeric comprehensively, including the botany, genetic resources, crop improvement, processing, and its use as a spice and flavoring. Of greatest interest to cancer researchers will be the 40 page chapter on the Bioactivity of Turmeric, and the 90 page chapter on Curcumin—Biological and Medicinal Properties. Each chapter is heavily referenced with an exhaustive bibliography. Representing a thorough treatment of all available research at the time of its publication, this book is a must-read for any serious researcher in this field.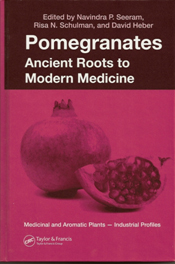 4. Pomegranates: Ancient Roots to Modern Medicine
Edited by: Navindra P. Seeram, Risa N. Schulman, David Heber
Hardcover: 264 pages
Publication Date: July 7, 2006
Publisher: CRC Press; 1 edition
ISBN-10: 0849398126
ISBN-13: 978-0849398124
Product Dimensions: 9.3 x 6.4 x 0.9 inches
This is the only textbook on pomegranates I know of, and it is recent enough to have most of the ground breaking research on the health benefits of the red fruit. The coverage in this text is comprehensive: there are chapters covering the commercialization, botany and post-harvest biology and technology of pomegranates (sections 3 and 4). However the bulk of the text is devoted to health effects of pomegranates and the biochemical basis thereof. Section 1 covers the biochemistry in great detail over 60 pages: phytochemical profiles, antioxidant properties and bioavailability of the polyphenols. Section two breaks up health effects into 4 sections: cardiovascular, anti-cancer, estrogen effects and anti-microbial action. The cardiovascular section specifically covers heart disease and stroke prevention. For cancer effects, a general chapter on the anti-cancer potential is followed by a chapter on molecular mechanisms of chemoprevention, and then one focusing on prostate cancer chemoprevention.
5. Green Tea: Health Benefits and Applications
By: Yukihiko Hara
Hardcover: 240 pages
Publication Date: February 15, 2001
Publisher: CRC Press; 1 edition
ISBN-10: 0824704703
ISBN-13: 978-0824704704
Product Dimensions: 9.3 x 6.3 x 0.7 inches
Green tea is currently the most researched botanical in the fight against cancer: there are currently 27 active clinical trials with the NIH using green tea or its extracts against cancer, and over 2689 citations on PubMed for research articles involving tea and cancer. This book is somewhat dated, but quite intriguingly the author worked for Tokyo Food Techno Co, Ltd, a subsidiary of the Mitsui Norin Co., Ltd—the developer of Polyphenon E. Of the 27 active clinical trials on green tea against cancer, at least 17 are using Polyphenon E, which is a caffeine-free, defined catechin content extract of green tea using a special spray drying process. This process is described in the book. In addition, there are well documented chapters on green tea's antibacterial action, antiviral action, anticariogenic action, anti cancer properties, lipid lowering effects, hypoglycemic and blood pressure lowering effects, pharmacokinetics, and toxicology. Also covered are the history and production methods of green tea.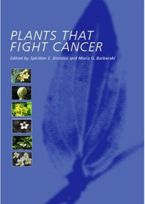 6. Plants that Fight Cancer
Edited by Spiridon E. Kintzios and Maria G. Barberaki
Hardcover: 312 pages
Publication Date: January 15, 2004
Publisher: CRC Press; 1 edition
ISBN-10: 0415298539
ISBN-13: 978-0415298537
Product Dimensions: 10.1 x 7.2 x 0.9 inches
This is an exhaustive review of plant genera and species with documented anticancer properties which goes far beyond the handful of species being currently tested in clinical trials. Over 150 terrestrial plant genera and species are presented including their distribution, botany, culture, and active ingredients. For any researcher looking for the next generation of anti-cancer botanical, this is an invaluable aid which also covers chemistry, biosynthesis, and mode of action. Current cancer screening methods are discussed as are the significance of primary and secondary metabolites. There is also a quite comprehensive 45 page chapter covering cytotoxic metabolites from various marine algae.
7. The Scientific Basis of Chinese Integrative Cancer Therapy including a Color Atlas of Chinese
Anticancer Plants
By: Bruce W. Halstead, M.D.
and Terri L. Holcomb-Halstead
Hardcover: 416 pages
Publication Date: (December 22, 2005)
Publisher: North Atlantic Books
ISBN-10: 1556435851
ISBN-13: 978-1556435850
Product Dimensions: 10.2 x 7.8 x 1.3 inches
No discussion of using natural medicine against cancer is complete without including traditional Chinese medicine. Despite the many known clinical trials ongoing in North America and Europe, thousands of years worth of wisdom and practice in Chinese herbal medicine remain largely untapped by Western medicine. This volume is a summary of a fact-finding trip to countries using Chinese herbs against cancer (Japan, China and Taiwan) in normal clinical practice. There are also chapters with easy-to-understand introductions to cancer, its origins, and the importance of immunology. The history of Chinese medicine is also presented as well as the philosophy behind Chinese herbal formulations. Methods of preparing plant extracts are also given. Most important, however, is 103 page color atlas of the main anti-cancer plants used in Chinese medicine. Each herb is pictured in color and details are provided on the plant's anti-cancer properties and specific pharmacology. Bruce Walter Halstead, MD, was a pioneer of integrative medicine. He died in 2002 after authoring over 50 books. He also founded and directed The World Life Research Institute. Terri Lee Holcomb-Halstead specialized in ethno-botany and integrative medicine and continues Bruce's work. This book is an excellent primer on Chinese medicine for cancer and is not as technical as the other texts in this section—most people would be able to follow it. The only drawback of this book is that the products of one particular herbal company are pushed a bit hard.
DISCLAIMER: Ethan Evers recommends books, periodicals, websites and other media for information purposes only, and has no responsibility for their content. Regardless of the content of recommended materials, Ethan Evers does not provide medical advice directly or through recommended materials. All matters regarding your health require medical supervision and advice from an appropriately licensed medical practitioner.